I'm joining in the linky party!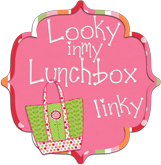 I always, always, always take my lunch. I haven't eaten in the school cafeteria in years! Usually left overs are the meal of the day. But I carry it in my 31 thermal tote.
I have to have my tea. I make it (sun tea style) in the Rubbermaid quart container. I fill it up with water as soon as I get to school, pop in a quart size Luzianne tea bag=tea by lunch time. It has to go in my Tennessee cup. (The Target tall straws that I get when I partake of the popcorn and drink combo is perfect for my cup!)
I always take a banana and the leftovers in the container. My grade unit eats in our work room (not a room for work obviously) and most days we have Oreo cookies if we want dessert. For some reason we have a "cookie monster" who gets them if we don't hide them at night.
I wanted a new lunch bag but 31 doesn't have it in the same pattern as my school bag. Boo-hoo! Aqua is my latest favorite color.
And totally random--the dogwoods are bea.u.ti.ful this spring! I am anxiously awaiting spring break after four more school days!!!